Different Types of First Aid Courses
When registering for first aid and CPR courses Canadian customers have the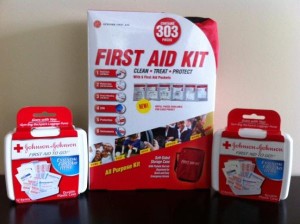 option of selecting from 3 different major first aid courses. It can be a difficult experience registering for first aid and CPR courses when customers have a variety of courses to choose from. This article will outline the differences between the three major first aid and CPR courses available to Canadians. All first aid courses include training in cardiopulmonary resuscitation (CPR) and the use of automated external defibrillators (AED).  These components are crucial to any first aid course.
Emergency first aid is the most basic first aid and CPR course available. It is a one day course that takes approximately 8 hours to complete. Topics covered include basic CPR for adult and child victims, the use of AED's, circulatory and respiratory emergencies. Circulatory emergencies include heart attacks, angina, transient ischemic attacks. Respiratory emergencies including recognizing and providing care for patients that are having allergic reactions, hyperventilation, aspiration or an asthma attack. Participants will have the ability to practice skills on manikins and with partners in scenarios. The participants that typically take this course are community center workers, adult teachers, fitness workers, physiotherapists, chiropractors, and people that work or volunteer with adults.
Standard first aid is the most comprehensive basic first aid and CPR course available to Canadians. All of the topics covered in emergency first aid are also covered in this course. Standard first aid certification can also be used to meet requirements for emergency first aid. Candidates will receive CPR and AED training and certification with this course. Additional topics covered include sudden medical emergencies, seizures, diabetic emergencies, burns, broken bones, poisons, fractures, dislocations, sprains and strains and environmental emergencies. Environmental emergencies include hypothermia, heat exhaustion, heat cramps, heat stroke and frost bite. This course takes approximately 16 hours to complete. Typical registrants include Lifeguards, Employee's that work with children, academic students, police officers, forestry workers, miners, RCMP officers, doctors, teachers and youth fitness workers.
Childcare first aid is a course taught exclusively through St Mark James. Participants have the option of registering for either standard or emergency childcare first aid. Both courses offer almost identical curriculum to standard first aid. Emergency childcare first aid takes approximately 8 to 10 hours to complete and is the most intensive basic first aid and CPR course available. Standard childcare first aid is a 16 hour course. Both courses come standard with CPR level "B" and AED training and certification. This course is designed for participants that work in the childcare, daycare, childminding and in day camps for youth. No infant CPR is covered in this course as this is course is not designed for workers with infants.
Regardless of the course candidates choose they will receive certification that meets workplace, school and government standards. Certificates are valid for 3 years throughout Canada and most providers offer renewal courses for participants that need to keep certificates current for workplace or school requirements. CPR re-certification is recommended every year for most employers and by most providers.
Project Ratings:
Related posts