Sports Medicine Trainer
Fact Checked
The sports medicine team is primarily composed of a physician, paramedics,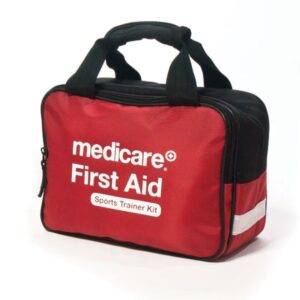 nurses and trainers. The trainers are the ones who are in direct contact with the athletes because they are constantly going with the athletes both on the training period and during the sports event itself. They are known as the front liners of the sports medicine team. With basic first aid training, they work with sports teams to help prevent and manage injuries. These trainers have at least a bachelor's degree, and some have master's degrees. Usually they are hired by the administrative personnel of schools or professional sports teams.
Also known as sports medicine technician, these athletic trainers typically assist in the therapy and care of injured athletes. Daily duties can include emergency injury assessment and treatment, application of splints and braces, ensuring the proper fit of sports equipment and educating athletes in preventative measures they can take to avoid injury. Under the direction of a sports medicine physician and the head athletic trainer, sports medicine trainers/ technicians often design and coordinate treatment with a sports masseuse or physical therapist in the implementation of a rehabilitation program for injured patients. They work in allied heath settings providing rehabilitation and care to injured athletes. While some sports medicine trainers/ technicians work with professional athletes or sports teams, most find work in a variety of other settings, including school athletic programs, ballet or dance companies, corporate office fitness programs, military academies and hospitals.
The sports medicine trainer has responsibilities and they include the following: immediate on-field emergency injury assessment and management; making appropriate and unbiased sideline decisions regarding athletes returning to full participation; thorough assessment and appropriate management of sport related emergencies such as, but not limited to: concussions, heat-related emergencies, sudden cardiac death, and MRSA; clinical assessment of injury; design & implementation of contemporary rehab protocols; sport equipment fitting, maintenance, and emergency removal; applying protective/supportive techniques that allow the athlete to regain physically active lifestyle; inventory and purchasing of supplies; and completing medical/accidental record form.
In order to become a sports medicine trainer/ technician, he/ she should meet certain career requirements. It is necessary for the prospective employees to have earned a bachelor's degree in exercise science, athletic training, physical education or any related field. The foundational courses include anatomy, nutrition, kinetics and basic science. According to the U.S. Bureau of Labor Statistics, over half of all athletic trainers have also completed some post-secondary education. With experience, a sports medicine trainers/ technician can work towards advancement to a senior-level position, or may continue their education in a related field, such as physical therapy or nutrition. Some sports medicine trainers/ technicians may even consider applying to medical school to specialize in sports medicine as a licensed registered nurse or physician.
Athletic trainers must be certified by the Board of Certification (BOC). After passing the exam, certified athletic trainers must periodically enroll in additional science or medical courses in order to remain current and to ensure they are upholding the standards of certification required by the BOC. Common areas of continuing education include Injury prevention, Injury evaluation and care, Injury rehabilitation and Professional ethics. In addition, if the certified athletic trainer works in a school's athletic program, some state educational systems require a teaching certification.
Online References:
http://en.wikipedia.org/wiki/Sports_medicine
http://education-portal.com/articles/Sports_Medicine_-_Athletic_Trainer_Career_Education_Overview.html
http://education-portal.com/articles/Sports_Medicine_Technician_Job_Duties_and_Career_Requirements.html
Was this post helpful?
Let us know if you liked the post. That's the only way we can improve.
Project Ratings:
Related posts