When to Call for Emergency Assistance
Fact Checked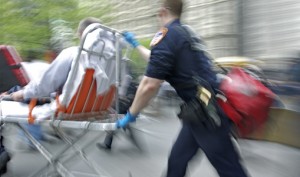 Oftentimes, when an emergency situation arises, people often panic and don't know what to do. Calling for emergency medical services during a medical emergency can often be disorienting and overwhelming, but whether a person is a good caller can make an impact on being able to get help rapidly or maybe not even at all. The following tips are for information purposes only. To learn more about how to respond to emergency situations, enroll in St Mark James First Aid Training and CPR courses offered almost over the country. These courses teach how to recognize symptoms early and how to give proper treatment.
When to Call for Emergency Assistance
Most people are confused whether it is time to call for emergency medical services. Thus, here are some signs and medical situations that can tip when should opt to call for assistance.
Signs of Emergency
Unconsciousness or no response at all
Rhythmic jerking of limbs
Difficulty breathing or exerts much effort than usual
Cyanosis of fingertips, toes or lips (bluish, purplish or grayish)
Stiffness of neck
Fever with rashes
Persistent or intense pain
Large, deep cut involving head, chest or abdominal area
Sudden slurred speech
Sudden blindness
Excessive bleeding, which does not cease after applying direct pressure for five minutes
Large area of burn that involves face, chest, groin, hands or feet
After head injury, any confusion, headache, vomiting or loss of consciousness
Bloody diarrhea accompanied by weakness
Vomiting blood
Angina or chest pain
Weak pulse
Medical Emergencies
If one is suspected of having any one of these medical emergencies, which will be mentioned below, it may be better to call for emergency assistance.
Anaphylaxis or severe allergic reaction
Drug or alcohol overdose
Poisoning
Heart attack
Cardiac arrest
Electric shock
Heat stroke
Paralysis
Broken bones (fracture, dislocation, through open wound, etc.)
Severe eye trauma or injury
Punctured wound (gunshot, knife, bite, etc.)
What to Expect in Emergency Calls
Make sure that before calling for emergency medical assistance, all necessary information is obtained, such as awareness of the exact location. The dispatcher must not be interrupted at all times and all instructions should be followed. Several questions will be asked regarding:
Consciousness of victim
Breathing
Presence of injury
Any recent major medical event
Chronic medical conditions
What to do While Waiting for Emergency Medical Assistance
At all times, do not hand up the phone unless instructed by the
dispatcher. While waiting for emergency services, instructions will be given on how to administer first aid. This is what is usually done while waiting for the paramedics to arrive.
If necessary, begin CPR.
If applicable, apply first aid for wounds, anaphylaxis, vomiting, and bone injuries, among others.
Make the casualty as comfortable as possible.
Do not panic and reassure the casualty that help is on the way.
At all times, do not leave the casualty alone until paramedics arrive.
When the emergency team arrives, give them all necessary information.
Was this post helpful?
Let us know if you liked the post. That's the only way we can improve.
Project Ratings:
Related posts