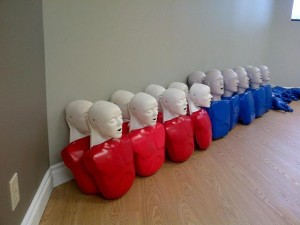 The leading training service provider of first aid courses in Calgary is Calgary First Aid. Calgary First Aid offers the latest St Mark James training courses in a variety of CPR training courses, stand-alone classes, private classes, and refresher courses. Classes are scheduled at various times throughout the week, with certain classes offered on weekends. You're sure to get a class that fits with your needs.
Enrolment is quick and easy as well. You may use the on-line application form below or send an e-mail. Calgary First Aid's staff also encourages phone calls and walk-ins at the training centre.
To view the complete list of classes, visit the Calgary First Aid website.
Contact Information about First Aid Courses in Calgary
Calgary First Aid is located near downtown Calgary, in the southwest. The main training facility is easily accessible by public and private transport. Restaurants and shops are within walking distance of the main training center.
A secondary training centre is located at 8989 Macleod in SE Calgary. This training facility offers great amenities nearby and with great access to public transit. Participants will also find an abundance of free parking at this facility.
Schedule
Classes are offered at various schedules throughout the week, even on the weekends. Should a trainee be unable to enrol in any of the regular classes, private classes are available. Big groups or companies who request a separate class for training can also enrol in a private class.
Certification
Trainees who complete any CPR training course are given a certificate for first aid, CPR, and AED training, valid for three years throughout Canada. Renewal / re-certification of expired or near-expiry certificates are also available through refresher courses.
Training courses
First aid classes cover a comprehensive list of emergency situations and injuries, with p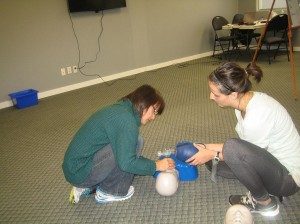 opular course topics being choking and bleeding emergencies. Stand-alone classes for cardiopulmonary resuscitation (CPR) and automated external defibrillation (AED) are also available for students who don't want to enrol in the full training course.  First aid courses are available throughout the week, weekends and evenings included.
Rates
Calgary First Aid offers the cheapest rates for training courses in the Calgary area. Rates are inclusive taxes, certificates, St Mark James registration fees, training manuals, and equipment.
Full refunds are given to trainees who drop out, provided that they give a 72-hour notice.
On-line Application Form
Get a head start on your CPR training today!
Hypertension complications
The danger with hypertension is that persistently high blood pressure damages blood vessels and different organs in the body. Uncontrolled hypertension can cause different conditions; the higher the blood pressure, the worse the damage. Hypertension can be cause to:
Heart attack
Stroke
Aneurysm formation and rupture
Heart failure
Kidney damage and failure
Damage to eye vessels
Metabolic syndrome
Enrol in a training course with Calgary First Aid today!