Victoria First Aid is a St Mark James affiliate that provides high quality training programs for first aid and CPR courses in Victoria, British Columbia. Students can choose from full first aid programs, stand-alone classes, and recertification. Victoria First Aid offers very affordable rates for all its classes. A list of programs and corresponding rates are available on the provider's website. All programs are taught by trainers certified by the St Mark James as well. If you're looking for the best training, choose Victoria First Aid!
First Aid Courses in Victoria
With Victoria First Aid, enrolment is very quick and hassle-free.
There are four ways students can enrol for a program: e-mail, telephone call, walk-in, or website. The website of the provider has a registration form you can use to sign up for a class after choosing form the list of available class schedules. E-mails and telephone calls will only be entertained during business hours, so be sure to conduct your business during that time.
All fees are paid before you start training.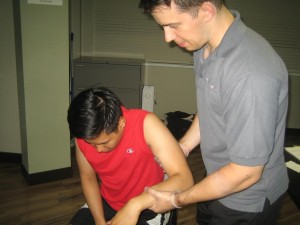 Students usually worry about additional expenses causing them to become distracted while training. However, with Victoria First Aid, all expenses are paid in full during enrolment. Total fees are inclusive of tuition, taxes, certificates, and St Mark James training manuals. If a students drops out of a program, full refund of the training fee will be given to him or her as long as the staff was notified at least 72 hours beforehand.
Students can choose from full first aid programs to stand-alone CPR classes.
First aid programs are 14-16 hours in total per week, with very flexible schedules. Certain classes are even available during the evenings and weekends. The first aid program covers a wide range of topics, the most popular ones being bleeding, choking, and fall emergencies. Skills such as bandaging and wound care, as well as using inhalers and epinephrine pens are also highly popular among trainees. A lot of class hours are spent honing different skills so you can expect that Victoria First Aid trainees will be the best compared to other providers.
While basic cardiopulmonary resuscitation (CPR) is included in the first aid program, there are also stand-alone CPR classes available. Students have to choose from 3 available categories: A, C, and HCP. The first two are for first time first aid students while HCP is for health care providers. All three teach students how to perform CPR on an adult victim while C and HCP teach students how to perform CPR on a pediatric victim. These programs are 4, 5, and 6 hours long.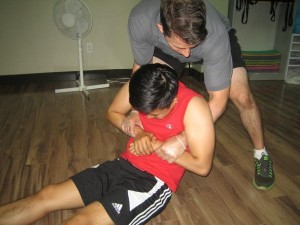 Certification from the St Mark James is awarded upon passing a class.
To pass any program at Victoria First Aid, a student needs to have good demonstration of first aid skills, at least 75 percent on the written exam, and complete attendance to all classes. After passing, certificate cards are awarded (bigger, wall-mount certificates are available upon request), valid for three years. These certificates are valid throughout Canada.
Renewal of certificates can be done through a recertification program. Standard first aid recertification is 8 hours long, twice a week, and inclusive of CPR C and HCP certificate renewal.
Did You Know?
Back pain
Depending on the location of the back pain, there can be many causes. Pain can be caused by a muscle problem or even a problem with the internal organs. The muscles in the back can be strained during heavy lifting. If the pain is lower, around the flank area, that can be symptom of a kidney problem. Typical signs and symptoms include muscle pain that is short and stabbing, inability to stand up straight, and poor range of motion of the torso.