Honolulu CPR is a training provider the state of Hawaii, one of the five states where we give CPR training classes. Trainees can enrol in either a Basic Life Support or Advanced Life Support program, depending on the kind of CPR certification he or she needs. BLS programs are very different from ALS programs, in terms of content, program length, and the target student audience. While the basic concept of CPR and CPR skills is taught in all the classes, there are variations in the curriculum for the general public and healthcare providers.
CPR classes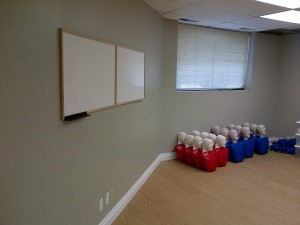 CPR programs are divided into two categories: BLS and ALS training. Basic Life Support has three classes, one for the public and two for healthcare providers. The BLS curriculum is focused on building CPR skills in giving compressions and rescue breaths, for either single or two-person rescue. Trainees are likewise taught how to use automated external defibrillators or AEDs.  Cardiac arrest – where the heart cannot pump effectively to circulate blood through the body – is the one of the leading causes of death in the US today.
Basic Heartsaver CPR/AED – 4 hours, general public – Teaches basic single person CPR rescue skills. First aid and defibrillation is also included in the program. No re-certification is available for this class. To receive certification, students have to pass the skills test at the end of training (optional).
Basic Heartsaver CPR/AED – 4.5 hours, HCPs – Teaches basic single person CPR rescue as well, but tailors all the lessons for people who work in healthcare or are studying healthcare.  The post-tests are mandatory, consisting of a practical and written exam.
Basic Life Support for HCPs – 4.5 hours, HCPs – Teaches basic single and 2-person CPR rescue, on top of the 2010 BLS guidelines from the AHA. First aid and AED training is also included in this program. Re-certification is available, 4 hours long. Post-tests are mandatory.
ALS programs are only for healthcare providers, going further than the basics and teaching trainees medical management of a cardiovascular and/or respiratory emergency. Medical management involves the use of bag valve masks, ET tubes, and medication, during and after a "code". The term code is used to describe a patient who has gone into cardiac arrest.
To qualify for ALS training, you need to be a healthcare provider who has a valid BLS for HCPs training credential, as well as a passing grade on the pre-test for either the ACLS or PALS program.
Advanced Cardiac Life Support – 16 hours over 2 days – teaches the medical management of cardiac arrest of an adult patient. The program includes adult pharmacology and adult physical assessment. The accompanying re-certification class is 5 to 6 hours long. Mandatory post-tests are given at the end of training.
Pediatric Advanced Life Support – 14 hours over 2 days – teaches the medical management of cardiac arrest of a pediatric patient. Pediatric patients are those younger than 18 years of age. There are different CPR skills needed for infants, younger children, and older children. Pediatric pharmacology and assessment is also included in the program.
All certificates are valid for two years and can be renewed through a re-certification class.